Your Brand's Cash flow Operating System
Your brand can't be valuable if you have cash tied up in inventory and minimums.
Sales in before Cash Out
ONE enables you to pay for your production after you collect cash from your customer. There are no up-front manufacturing minimums.
No Minimums
Unlimited assortment of fabrics on which you can create with production runs as small as one garment. No minimums.
Your Brand's More Sales Operating System
Increase your sales with faster reaction and more insight.
Never be Out of Stock Again
ONE enables you make as many as you want.
Or as few—think of unlimited limited editions!
React to the Market in real time
ONE gives you insight into how your customers are responding. And you can change or add products in minutes to respond.
Your Brand's Less Cost Operating System
Our advanced AI systems and integrated manufacturing capability
radically reduce your operating costs.
No Pattern Makers. No Tech Design. No Samples.
Use ONE to design your bodies in 3D and eliminate pattern-making and tech design costs.
Make infinite modifications without the time and cost of physical samples by fitting on your brand's custom fit avatar.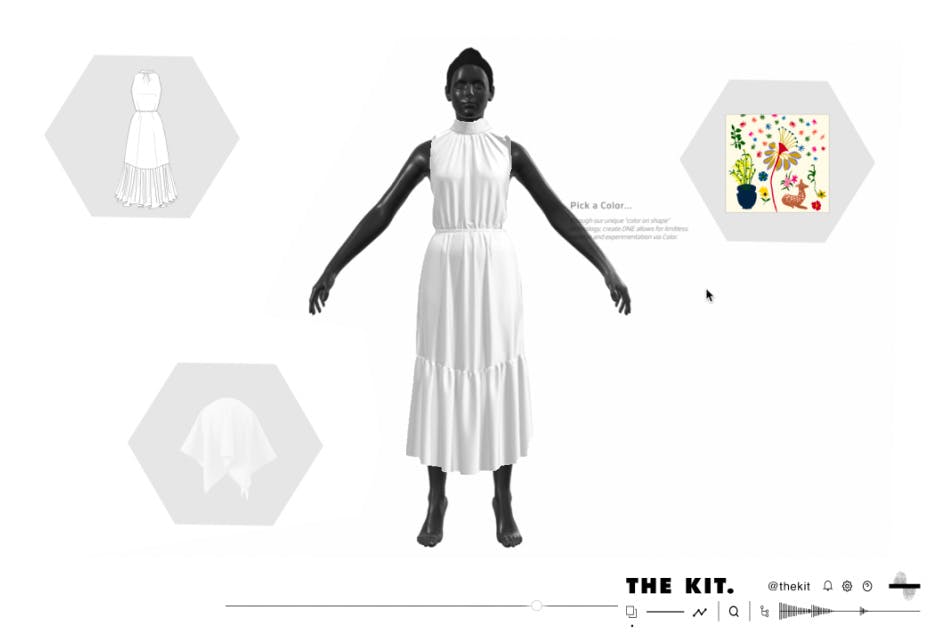 Automatic Costing and Web Management
Automate most financial and business management tasks in your brand including product costing.
Publish products to your website with a click of a button—reducing the cost to manage your online business.
End-to-end Production and Fulfillment
Producing and fulfilling with ONE means no costly production teams and no costs for storage/logistics facilities.
Our AI-driven production ensures your products are made as efficiently and sustainable as possible. On demand.
Your Brand's Ownership Operating System
Your brand is based on creation. But we live in a world where creations are taken from you all the time.
ONE protects your designs by creating copyright-ready proof to enable you to protect
your designs and prove your creative ownership.